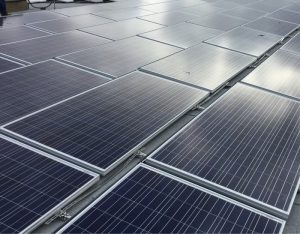 RA POWER & LIGHT Construction operations teams have designed and installed over 200 megawatts of commercial-grade renewable energy systems. We have deep experience in construction and safety operations management, integration and implementation of large-scale commercial renewable energy systems. Projects range from shovel-ready new construction, to complex industrial solar retrofits.
How well commercial PV systems are designed and installed on the front end determines the level of service required on the back. We begin by building scaffolding that enables crews to safely access the roof without entering your building. Next, a portable hand wash station and facilities are brought onsite. When material arrives we have lift equipment staged and in place to safely load the roof with material spaced to eliminate concentrated loads. Through it all, we sweat the small stuff. Our staging area on the roof is relocated each day to prevent heavy foot traffic in the same areas. Best practices on the roof is a learned skill over many commercial projects.
RA POWER & LIGHT crews arrive onsite equipped with industry leading experience, safety training and the tools and equipment to assure flawless execution and delivery of completed projects. Our objective is 100% safety with zero defects across every phase of your project, with minimal if any disruption to your business operations. Our teams are experienced, insured, licensed and trained to assure best-practices in the classroom translate to best practices on the job site. RA POWER & LIGHT continues to set industry standards in system design, construction and peak energy production.