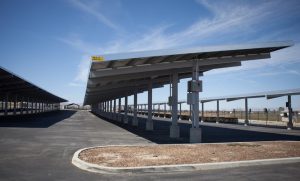 When underutilized commercial real estate (open parking areas) are converted into a multiyear revenue generating assets, it has a powerful effect on your balance sheet and quality of life for employees, partners, faculty, students and customers. RA POWER & LIGHT structural steel Solar Canopies are powder coated for improved aesthetics and can include LED lighting and security upgrades to assure parking areas remain safe and illuminated.
Solar canopies transform parking areas into secure power generation and often double or triple power production from your facility. Canopies range from 10 to 25 feet of clear height suitable for virtually any industrial commercial facility. Want to cover the outdoor basketball courts at the Elementary School so kids can play hoops in the shade as peak power is generated? No problem! RA POWER & LIGHT structural steel canopies are backed by a 20-year warranty.
These multipurpose structures are popular with clients because they produce tremendous amounts of energy and may be upgraded to include electric vehicle charging stations. The cost to deploy solar canopies is now only slightly higher than roof mounted PV. RA POWER & LIGHT Solar canopies are eligible for Federal solar tax incentives and are both property and sales tax exempt in California.