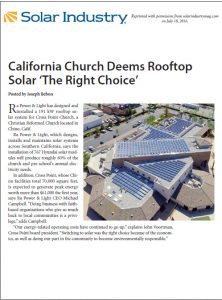 California Church Deems Rooftop Solar "The Right Choice"
Solar Industry • SEPTEMBER 2016
In Chino, Calif., RA POWER & LIGHT has designed and installed a 191kW rooftop solar system for CrossPoint Church, a Christian Reformed Church. The installer says the project's 767 Hyundai solar modules will produce roughly 60% of the church and preschool's annual electricity needs.
RA POWER & LIGHT, which designs, installs and maintains solar systems across southern California says the installation of 767 Hyundai solar Modules will produce roughly of the church and preschools annual electricity needs.
In addition, CrossPoint, whose Chino CA Facilities total 70,000 square feet, is expected to generate peak energy worth more than $61,000 the first year, says RA POWER & LIGHT CEO Michael Campbell. "Doing business with Faith-based organizations who give so much back to local communities is a privilege" adds Campbell.
Our Energy-related operating costs have continued to go up." Explains John Voortman, CrossPoint board president. "Switching to solar was the right choice because of the economics, as well as doing our part in the community to become environmentally responsible."